Read Carolyn's biography, keep updated on her latest news, find her favorite links, a list of women's fiction book reviewers & more!

Carolyn loves to interact with her friends & readers!

Read the latest reviews for BEYOND THE LIES!

"Beyond the Lies

tells a poignant story of a woman in terms that we can all understand, and many can identify with today. Tracking Gloria through her life, viewing things through her eyes, and counting the consequences is done with care and skill. The reader is drawn in to the story, experiences the frustration, and learns to care what happens to her. The trick is trying to get

Beyond the Lies

to the truth, and then be able to live within its parameters. That is Gloria's challenge, and you are invited along for the ride." Reviewed by Rosemarie Brungard, Heartstrings & Romance @ Heart
HOLE IN HER HEART has taken first place in this reviewer's top reads of 2004. This novel grabbed her heart and attention from page one, and never stopped flowing in her mind. Once the book was put down, she could not stop wondering "what next" and waiting for time to grab just a few minutes to read "one more chapter."

Reviewed by Angie, Love Romances
Unravelings This is an anthology of mystery and horror stories in the tradition of those wonderful old Alfred Hitchcock books where dark crime and supernatural stories sit comfortably side by side...~Cemetery Dance Review
Carolyn Russell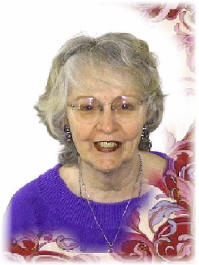 A native of Indiana, Carolyn lived in Michigan, Illinois, and South Carolina before she retired and moved to Missouri to be closer to her grandchildren. She graduated from Ball State University where she also received a master's degree in student personnel administration in higher education. Carolyn taught special education at the junior/senior high level before moving into academia. Officially, she's retired, but she works part-time at the local library in Poplar Bluff. Her duties include writing a column bi-weekly for the local newspaper. Writing has always been part of her life, but it was her dear friend and former colleague, David Silberstein, who convinced her that she had a flair for fiction. Carolyn travels often to visit with her five children when she isn't writing. Her hobbies include tennis, reading--especially mysteries, and travel.
News: Carolyn recently signed a contract with Publish America for publication of HOLE IN HER HEART. Look for it sometime in 2004.
Carolyn is a member of:
Carolyn's Favorite Links:
Literary Leaps -- Thousands of links to book-related sites, arranged by category and searchable by key words

Women's Fiction Book Reviewers
REVIEWER

CONTACT ADDRESS

COMMENTS

The Charlotte Austin Review

No longer accept directly from author. Publishers/publicists may forward review copies or ARC's accompanied by press releases to this address:

Charlotte Austin

3850 Sheppard Avenue East

Toronto, Ontario

MIT 3V8

CANADA—

Blurb Reviews

Visit web site for submission guidelines

Denise's Pieces

See Website for guidelines

Lisa Ramaglia
Scribes World, Owner


format is variable--printed galley, printed book, edited file, ebook.

Eva Almeida, Publisher of eBook Reviews Weekly

ebooks via attachment

Timeless Tales Book Reviews

See Web site for guidelines

My Shelf Suzie Housley

ARC

Romance at Heart/PR Admin.

Galleys, ARC's

Rose Brungard

1 East Manor Avenue (rear)

Enola, PA 17025-2822

In the Library Review

See Web site for submission guidelines

loveromances

See Web site for submission guidelines

Romance junkies

See Web site for submission guidelines—must have some romance within the story

Heartstrings

See Web site for submission guidelines

Best Reviews

See Website for submission guidelines

The Romance Studio

See Website for submission guidelines—Tina Pavlik
Search The Internet With NetroSearch.com!
Search the internet faster and smarter with NetroSearch.com and get better results in less time. While you're visiting us, be sure to signup for your free email account and enjoy all the benefits our community has to offer.